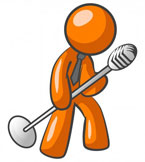 Hi my name is ben and I am a professional voice over artist and audio engineer.
I have been working in the recording industry for over 15 years and have recorded and produced audio productions and voiceovers for 1000's of business's around the world...
Voice is god's gift, and every voice is vivacious. Voice overs are a new concept emerged in the media industry. It is widely used for the promotion of businesses through various media sources. Off-camera or off-stage commentary is it's another name, and plays huge role in radio, television production, filmmaking, theatre, and in several other types of presentations.

Voice over Australia is famous for providing a great platform to upcoming Australian voice artists, and promotes their voice for website videos, TV commercials, Radio commercials, IVR prompts, corporate videos, music on hold, and others. Australian voice artist gets immense opportunity over here to deliver their voice for country's leading brands. It nurtures their voice ranging from voice modulation, variation, and performance for TV promos, radio imaging, and etc.

Similarly, voice over Sydney is unquestionably the hub of media industry, and has given innumerous voice talents. Several voice talent agencies are prevalent in the city, and if you want to make your career as a voice over artist, then you can make most out of them. After getting good training stuff from them, your voice becomes unanimously a leading choice for Australia's prestigious advertising agencies, production studios and broadcasters.

Voice over Melbourne and voice over Brisbane is in demand for more voice over artists. Many TV commercials, radio campaigns or for narration requirements their voice over artists are in huge demand because of good range of styles and deliveries. It is important to have great versatility, directablity, and core understanding of the subtleties and nuances so that can do justice with the assigned work.